Automotive Distribution Centre & Laydown Areas
ZONE 24 & 25: Automotive Distribution Centre & Laydown Area
The warehouse benefits from a number of innovative solutions to provide optimum storage conditions for automotive metals and other goods that require climate controlled conditions.
The building can be maintained an optimal internal temperature and relative humidity to protect the quality of goods stored.
The facility is serviced by direct rail connectivity allowing cargoes to be safely unloaded in a dry environment.
Adjacent to the warehouse are extensive laydown areas suitable for storing a number of products.
Both of these zones benefit from customers regiemes including customs bonded warehousing and freeport status.
Zone 24: (LAYDOWN AREAS)
xxx facility (Consisting of two areas TRIP 1 & 2 – 89,000 sq ft)

Rail linked 

Hard standing

Security fencing
Lighting

CCTV

24/7 security patrol
Zone 25: (WAREHOUSING)
9500m2 facility

Rail linked directly into warehouse

Overhead cranes capacity up to 30 tonnes

Climate-controlled

Environmental credentials – solar panels, ground sourced heating
Waste water soak away
High speed shutter doors
Movement sensored LED lighting

CCTV

24/7 security patrol
contact us for more information
Call our commercial team today on :
+44 (0)1642 219271 or complete our contact form.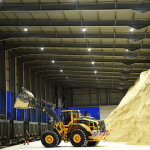 The Staiths, Port of Middlesbrough, Depot Road, Middlesbrough TS2 1LE