Port of Middlesbrough's intermodal park is fully equipped to handle all your container needs
Built as part of a £12.5 million investment into container storage and warehousing, this dedicated terminal offers a range of container services as well as storage and handling. Port of Middlesbrough's intermodal park benefits from convenient access to main arterial transport routes including the M1, A19 and A66 and direct rail access to the East Coast Mainline.

Off-dock container storage, lifting and loading
The intermodal park is located just 10 minutes away from Teesport making it one of the closest off dock storage areas, handling 40/45 hi-cube (HC) containers. With experience delivering to all sites across the UK and with over 15,000 containers successfully delivered/ loaded a year it isn't hard to see why the intermodal park is a base for over 50 major container customers. Port of Middlesbrough also has a trailer fleet capable of moving all sizes of tank and containers including 20, 30 and 40ft tipper containers.
Additional services
Devanning, stacking and reloading capabilities for shifted and unsafe loads.
Loaded Iso Tank and container storage
Hazardous contents storage and handling
Container liner removal and container lining (bag in a box).
Laydown areas allowing it to handle and store various products including steel pipes and steel sections for containerisation and onward delivery
AV Dawson's intermodal terminal (TRIP) at Port of Middlesborugh is equipped to handle all additional container service needs. Along with container storage AV Dawson's offers a range of additional services including:
Container devanning, (stripping, unstuffing, unloading)
Container vanning
Stacking and reloading capabilities for shifted and unsafe loads.
Carried out by an expert team with many years of combined experience, you can be assured your containerised goods are in safe hands.
Devanning
Your business could save time and expense and time by utilising AV Dawson's teams container devanning service. This additional container service provides a cost-effective alternative solution to unpacking containers inhouse. AV Dawson's dedicated team's have years of combined experience and make sure that all of your good are handled with expert care. Devanned container cargo can be checked for damage or re-palletised for onward transport or storage.
Vanning
As well as Devanning AV Dawson's team offers a range of vanning services to make sure your goods are loaded into containers securely so they will arrive at their onward destination securely. Securing your products in a container is one of the safest ways to transport your goods and reduces the risk of damage whilst in transit. The team have experience in preparing and handling a variety of goods and products ready for storage in containers, making sure that weight and size of the goods are taken into consideration when loading. They are also trained to work in confined spaces to safely handle your cargo and adhere to strict health and safety standards.
Shifted Loads
Shifted loads can happen for a number of reasons, sometime accidents happen in transit or it may be the case that the container may not have been loaded properly.  The team at AV Dawson offer a shifted load service to help rectify any issues that have occurred in transit.
The team will carefully unload the shifted load, taking care not potentially damage any of the existing cargo. The goods with then be restacked properly and can either be reloaded back into the container or if the goods have shifted on a pallet this can be re-palletised and safely secured into the container or secured ready for onward transport or storage.
contact us for more information
Call our commercial team today on :
+44 (0)1642 219271 or complete our contact form.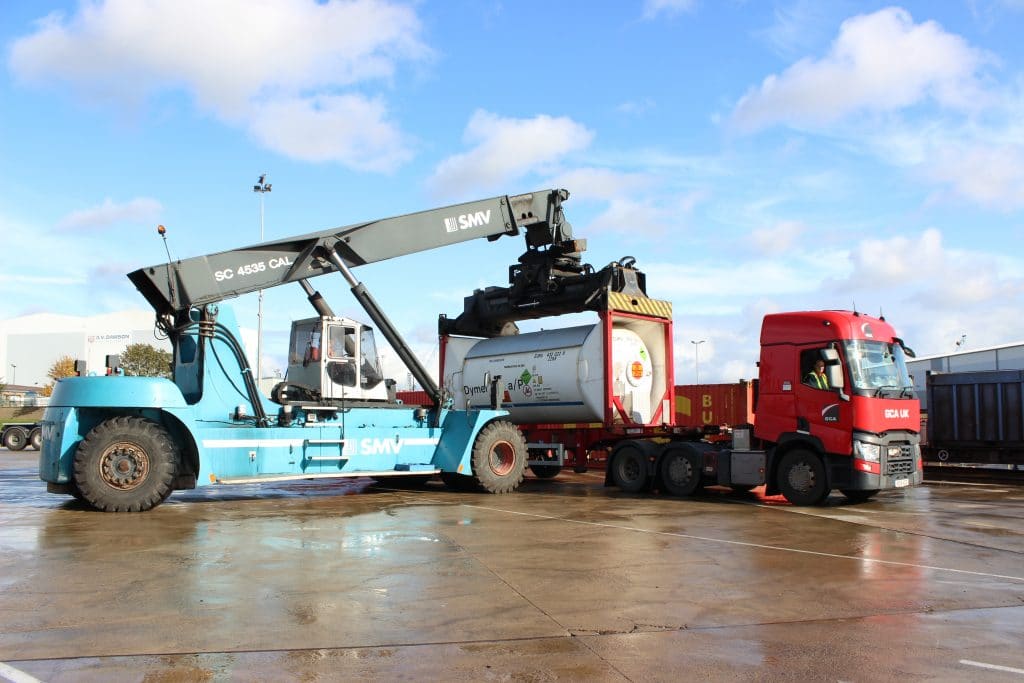 Why choose Port of Middlesbrough?
Our road haulage team can take care of all of your onward distribution needs.
The Staiths, Port of Middlesbrough, Depot Road, Middlesbrough TS2 1LE
Tunnel Segments Imported To Support Mine Construction
Local freight logistics specialists have been called in to import 1km of tunnel segments for Anglo American's Woodsmith Project on the North Yorkshire Moors. The team at AV Dawson's Port of Middlesbrough worked with global logistics experts FH Bertling on this complex logistics challenge.